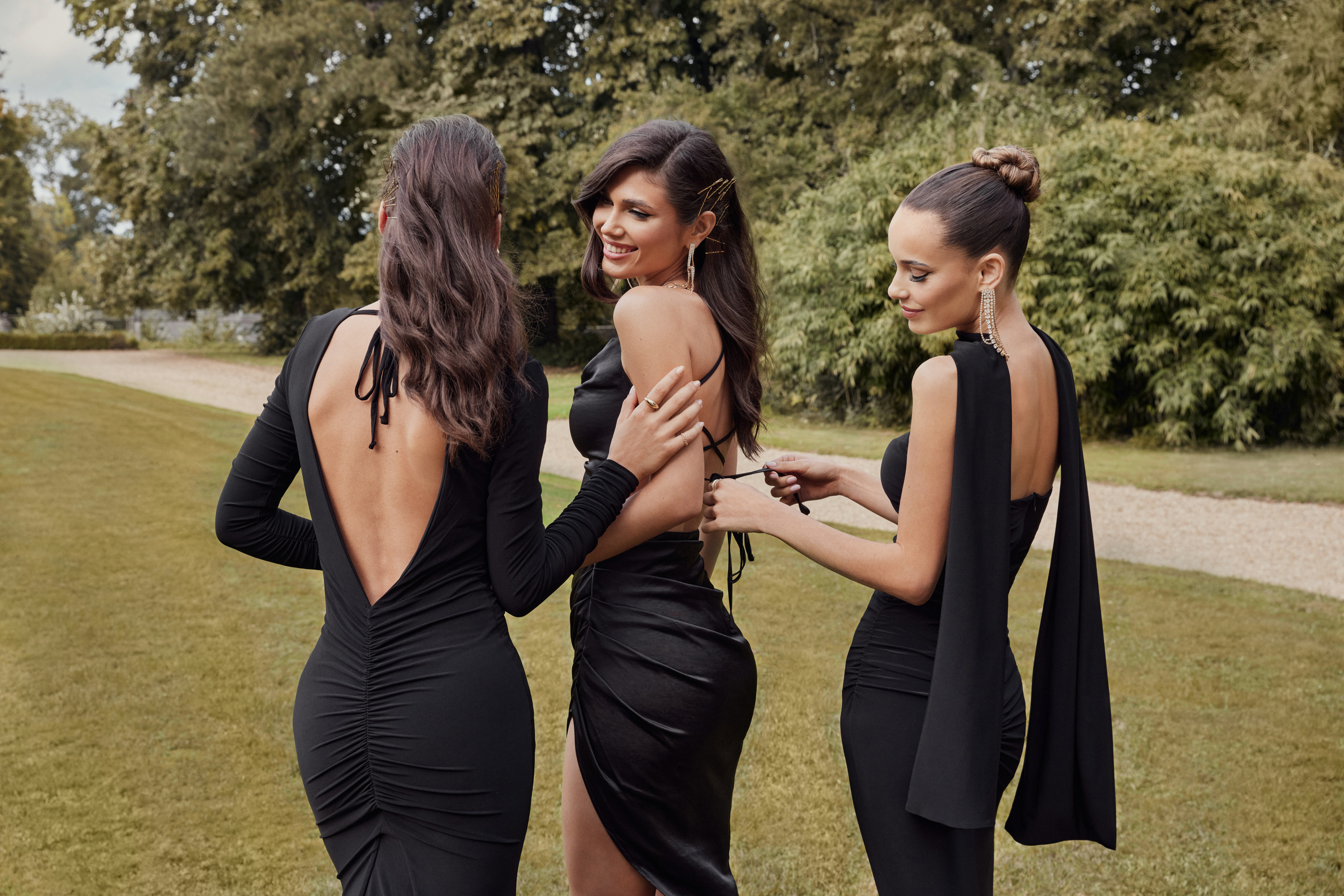 THE SECRET TO BRIDESMAID
DRESSING THIS SEASON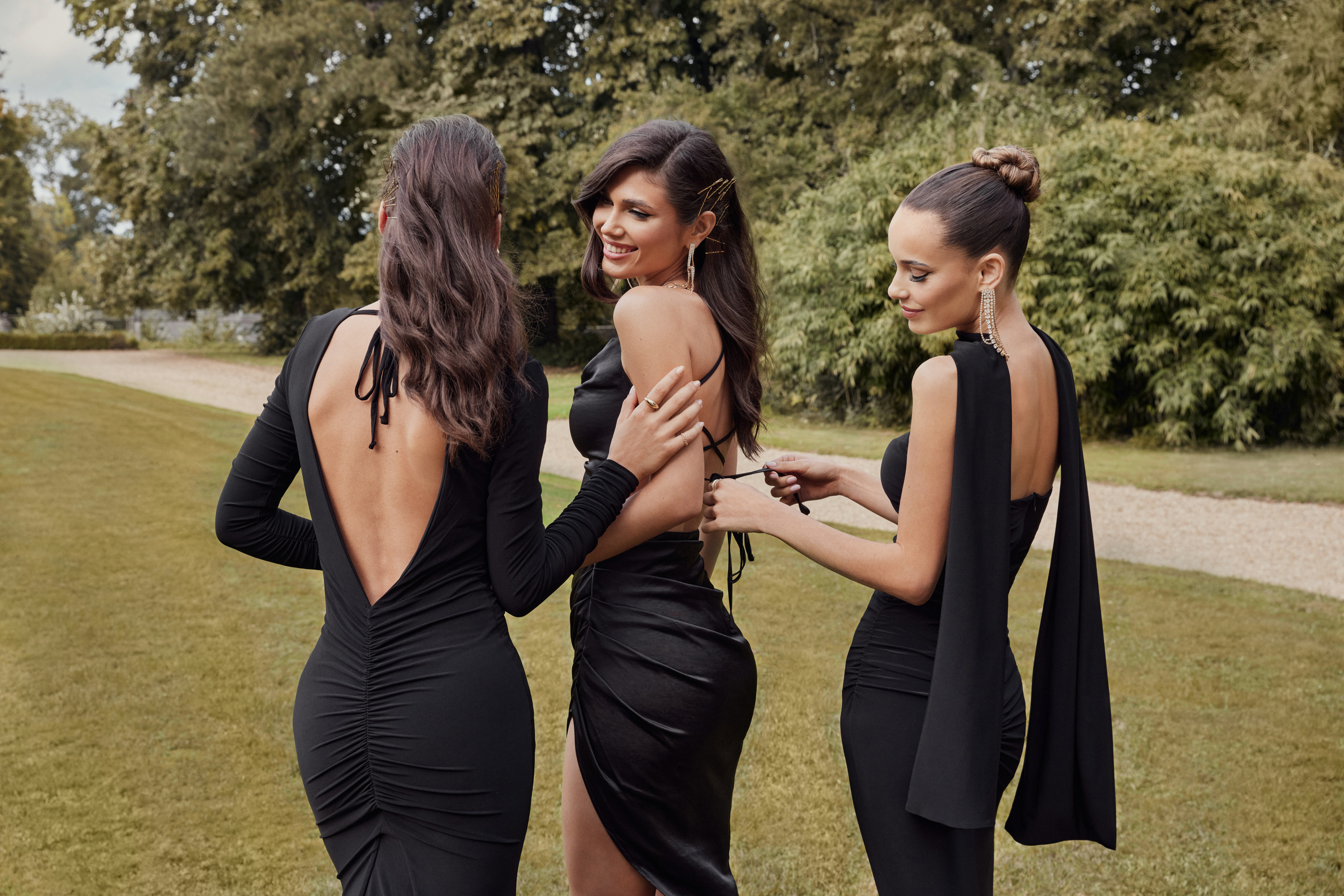 THE SECRET TO BRIDESMAID DRESSING THIS SEASON

As decades of 'I Do's have passed, so have the wedding trends that influence a bride-to-be's imperative plans from the ceremony venue to the bridesmaid dresses. Always understated and never upstaging, these dresses sit on the same level of importance as the bride's own wardrobe in her big day decisions but old traditions surrounding the entourage's ensembles are questioned and challenged more by the season.

This is not to say that perfectly matching bridesmaid dresses are over, but merely rethought as women today want to feel less 'cookie cutter' and more like themselves, something brides are accepting and exploring without losing sight of their fairytale dream. With this attitude, a breath of fresh air has swept the bridal industry and parties are balancing individuality with history to choose synchronized outfits synonymous with their unique styles.

Taking cues from the weddings of Sofia Richie, Joey King and from Kourtney Kardashian (despite her attempt at secrecy), the way to achieve this trend-led take on bridesmaid dressing is by switching silhouettes before colour palettes and prints. Corresponding shades create a sense of uniformity in the group so no matter which bridesmaid dress each member feels most comfortable in, be it a halter-neck midi or a strapless maxi, the wedding line-up will always complement each other. They'll even look better, confident in their favourite silhouette of dress, and project that energy into the day from the vow tears and dinner toasts to the after party.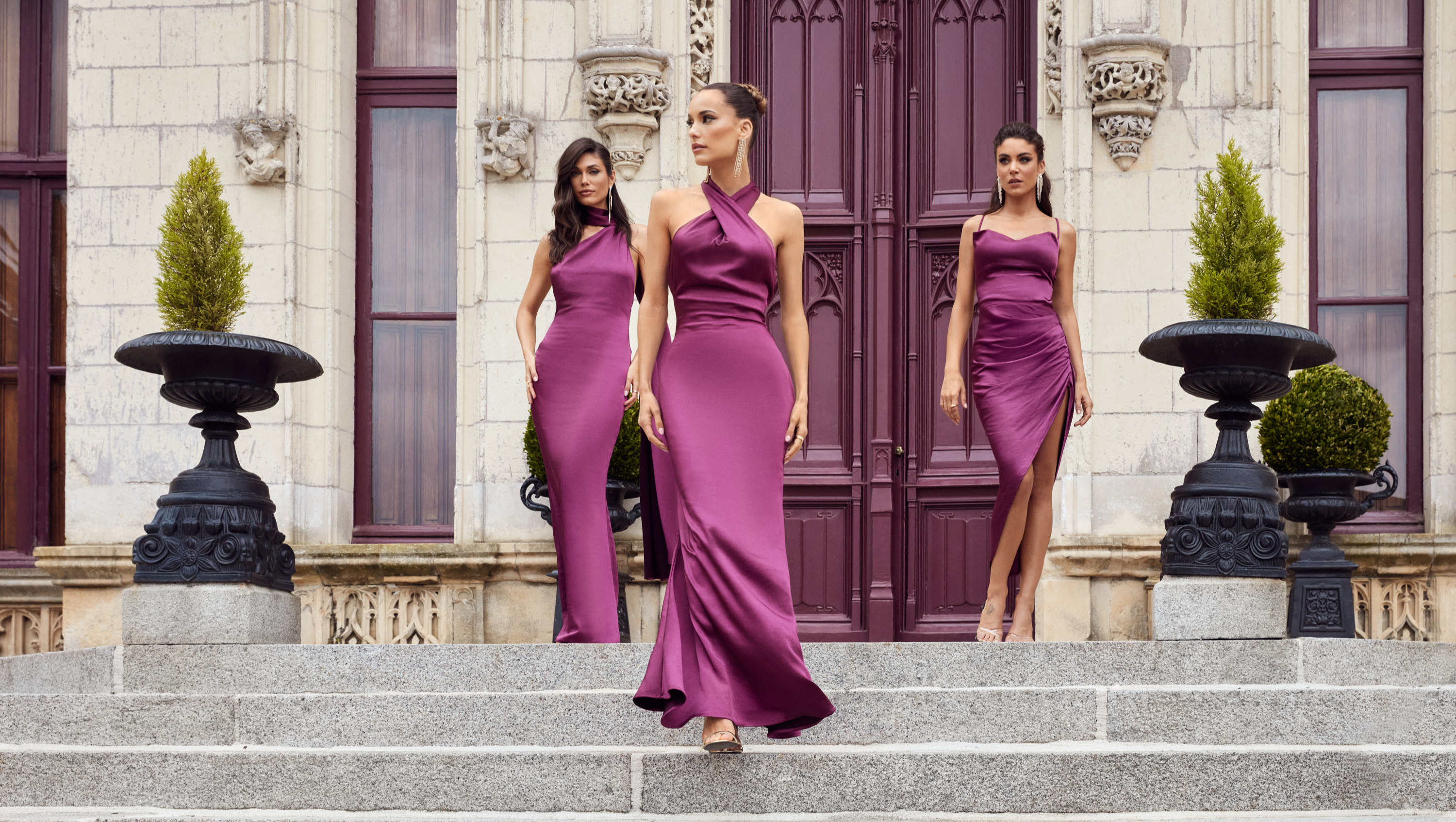 So you've gathered your ride-or-die girls, now to choose the shade they'll be sharing, and the trending tones for autumn and winter weddings are classic, dark and very much re-wearable. Explore them all within our showcase of best-loved bridesmaid and maid of honour dresses, guaranteed to give even wedding guests envy.


CHAMPAGNE  the greatest gold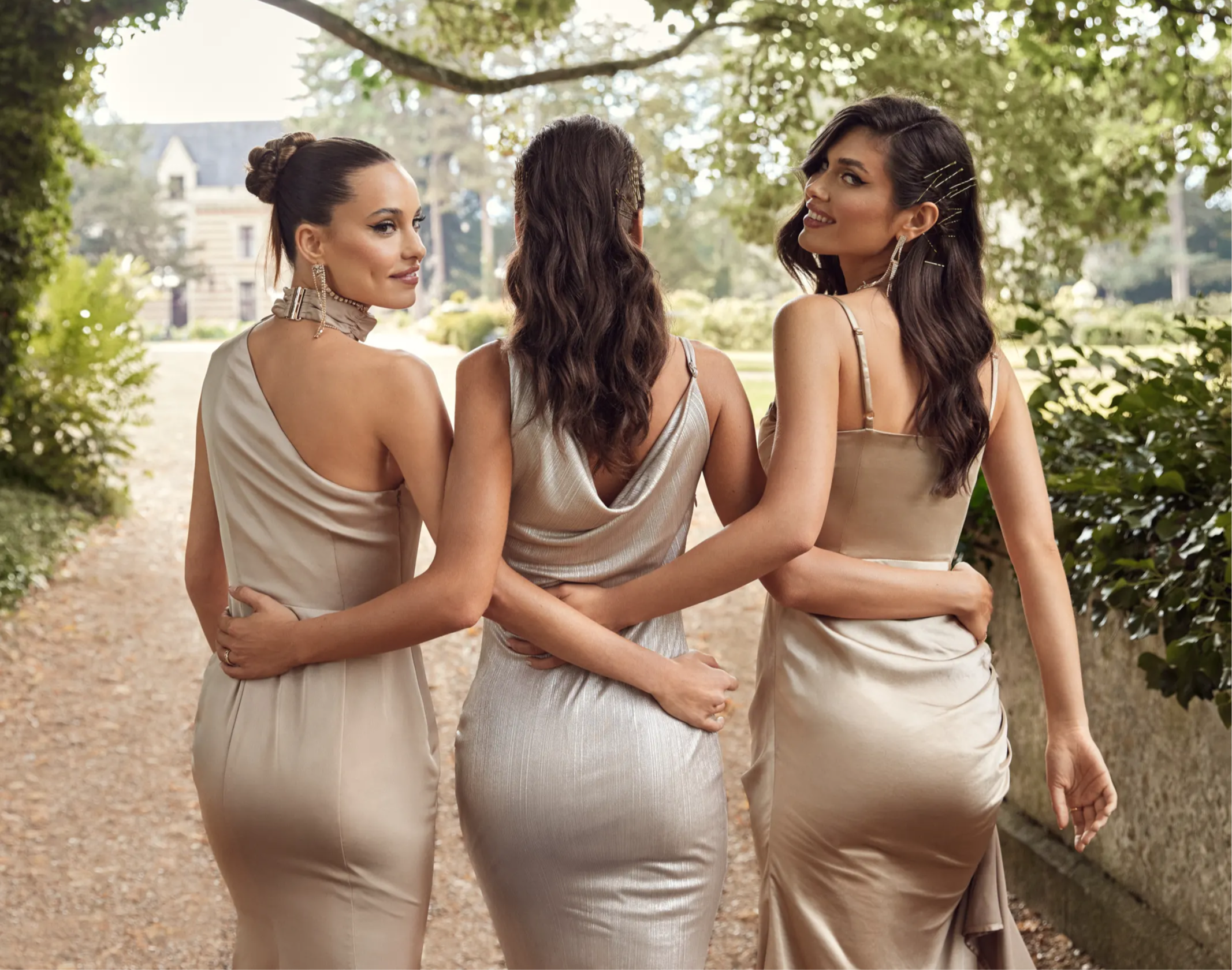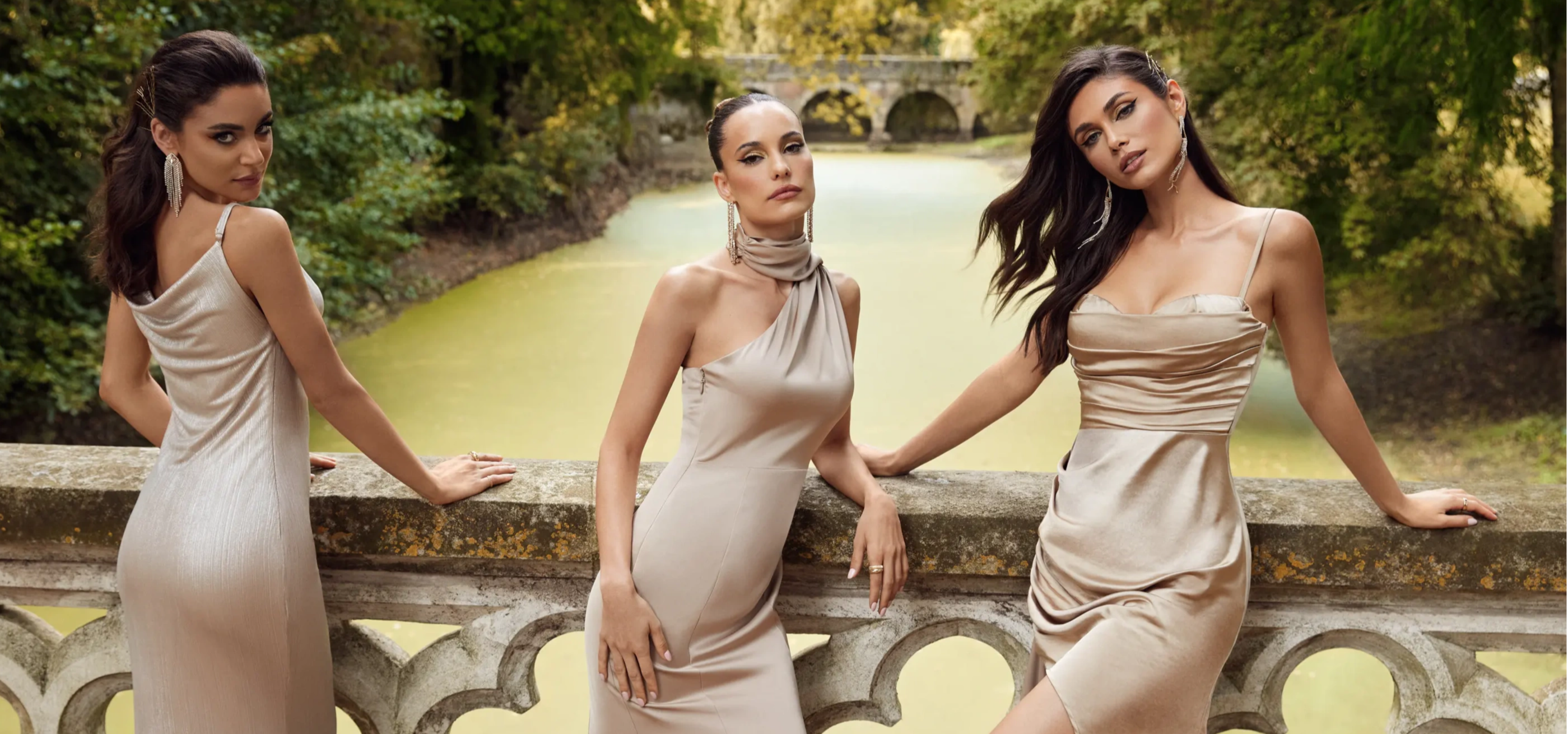 Gild your gorgeous bridal party in the cool-toned metallic that always makes an appearance on the A/W trend reports. This year more than ever before, we've seen fashion weeks from New York and London to Paris illuminated by gold silhouettes and details. Let champagne shades inspire lustrous bridesmaid looks that quietly shine and mismatch intentionally.


BLACK  a controversial classic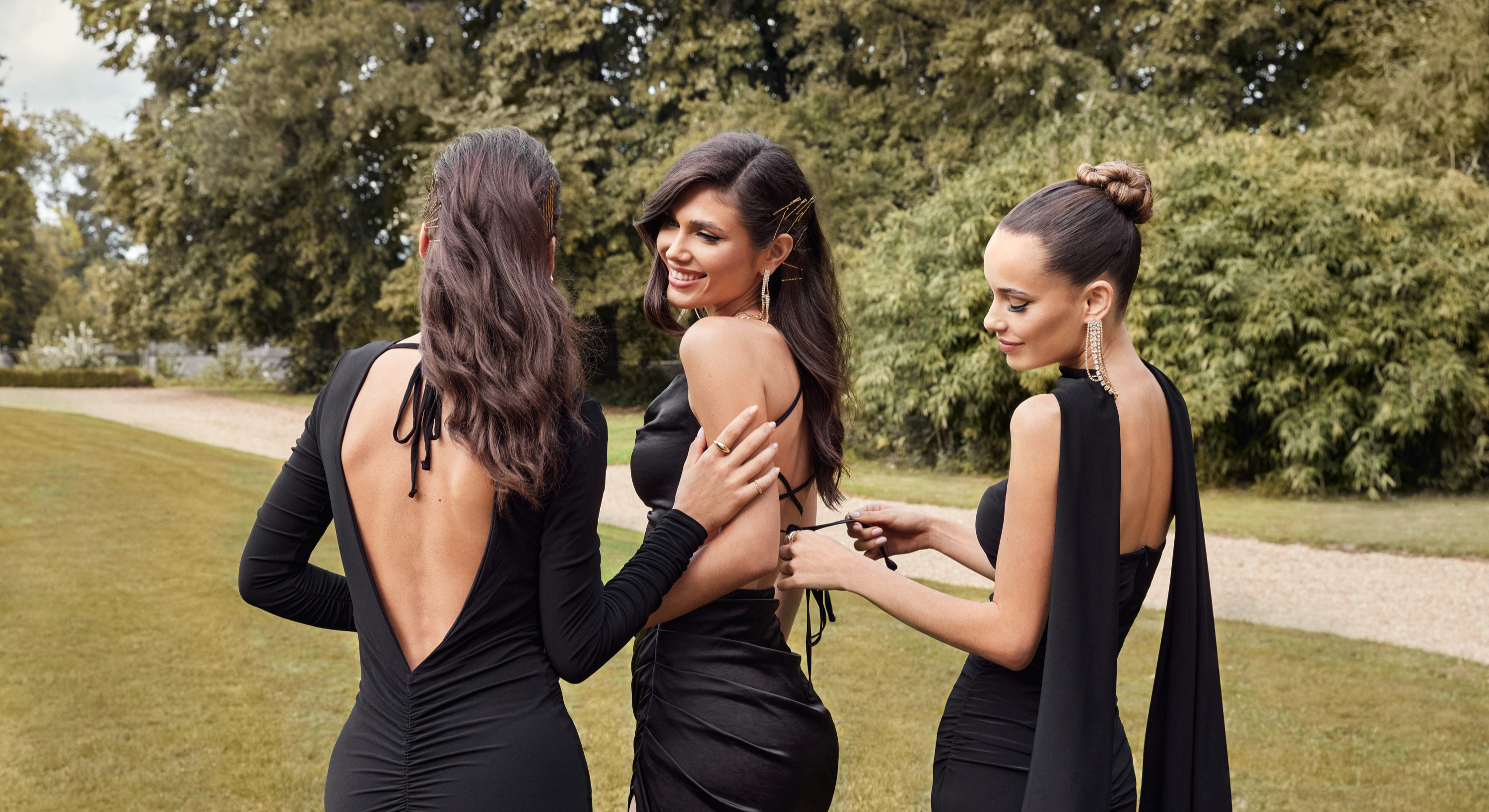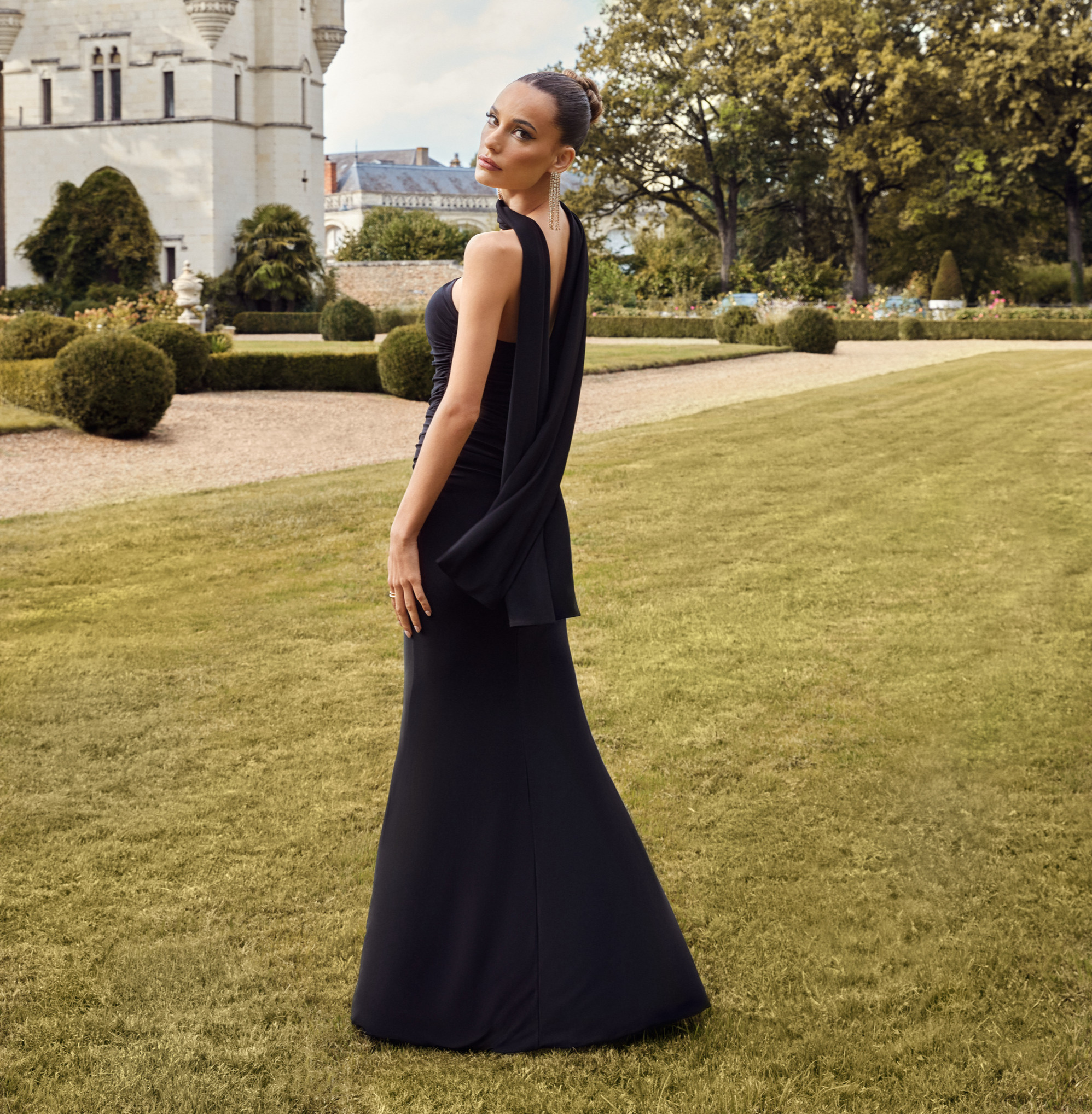 Black bridesmaid and wedding guest dresses have had a fair share of debates in recent years but their timeless appeal transcends any and all outdated connotations. Trends this season embrace the shade with all-black outfits dominating the aisles as much as the city streets. Dare to dress your party dark, contrasting fabrics from satins to figure-flattering jerseys for a contemporary twist.



PLUM & BURGUNDY  forever timeless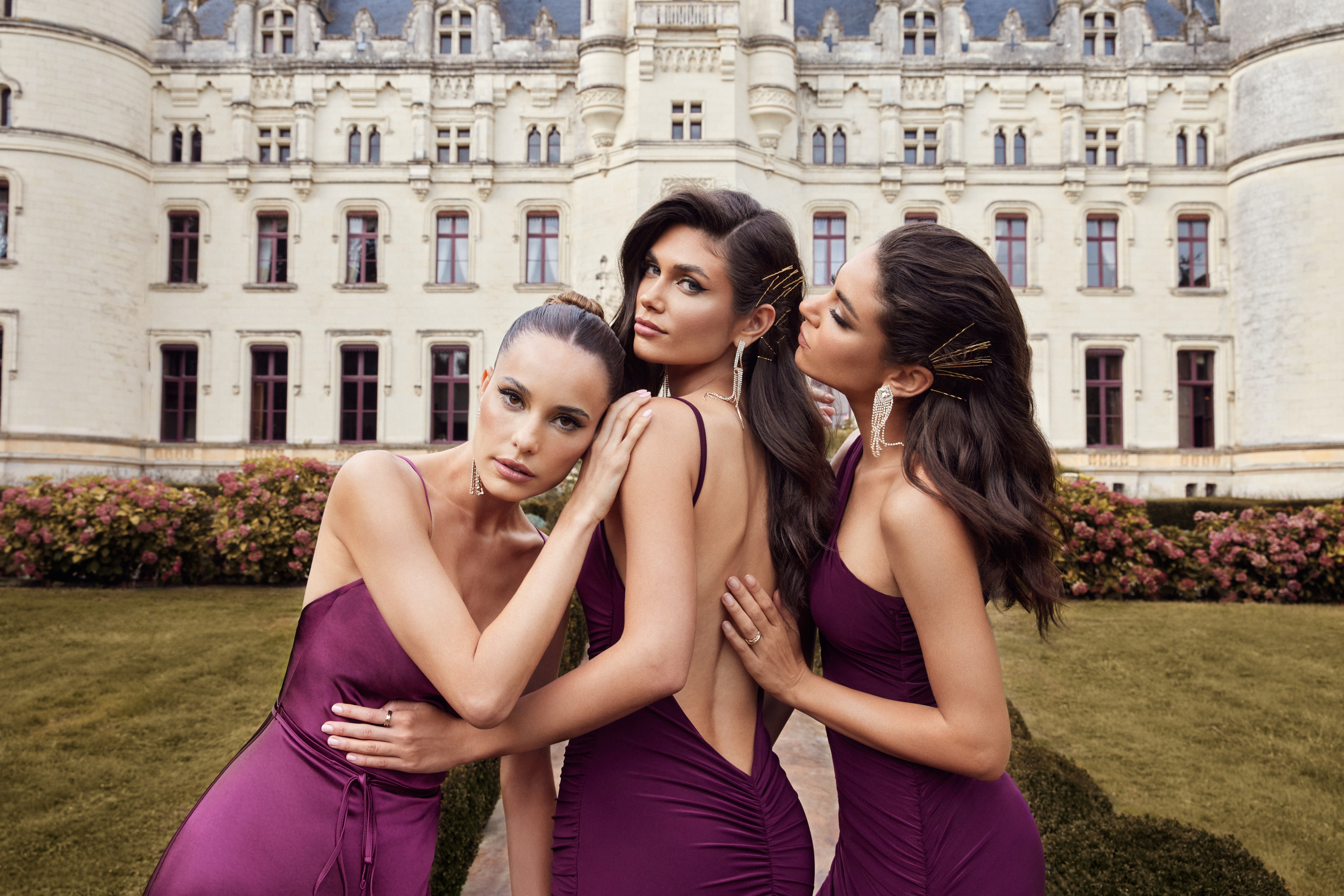 The seasons' two most-talked-about tones have been autumn and winter wedding go-tos long before trendsetters took notice. Reflecting the shades of forest berries and dark floral displays, let your bridesmaids pick their favourite duty-ready dress - from burgundy maxis to plum purple midis - and create a bespoke colour story that makes each party member feel subtly special.



OLIVE GREEN serene & sophisticated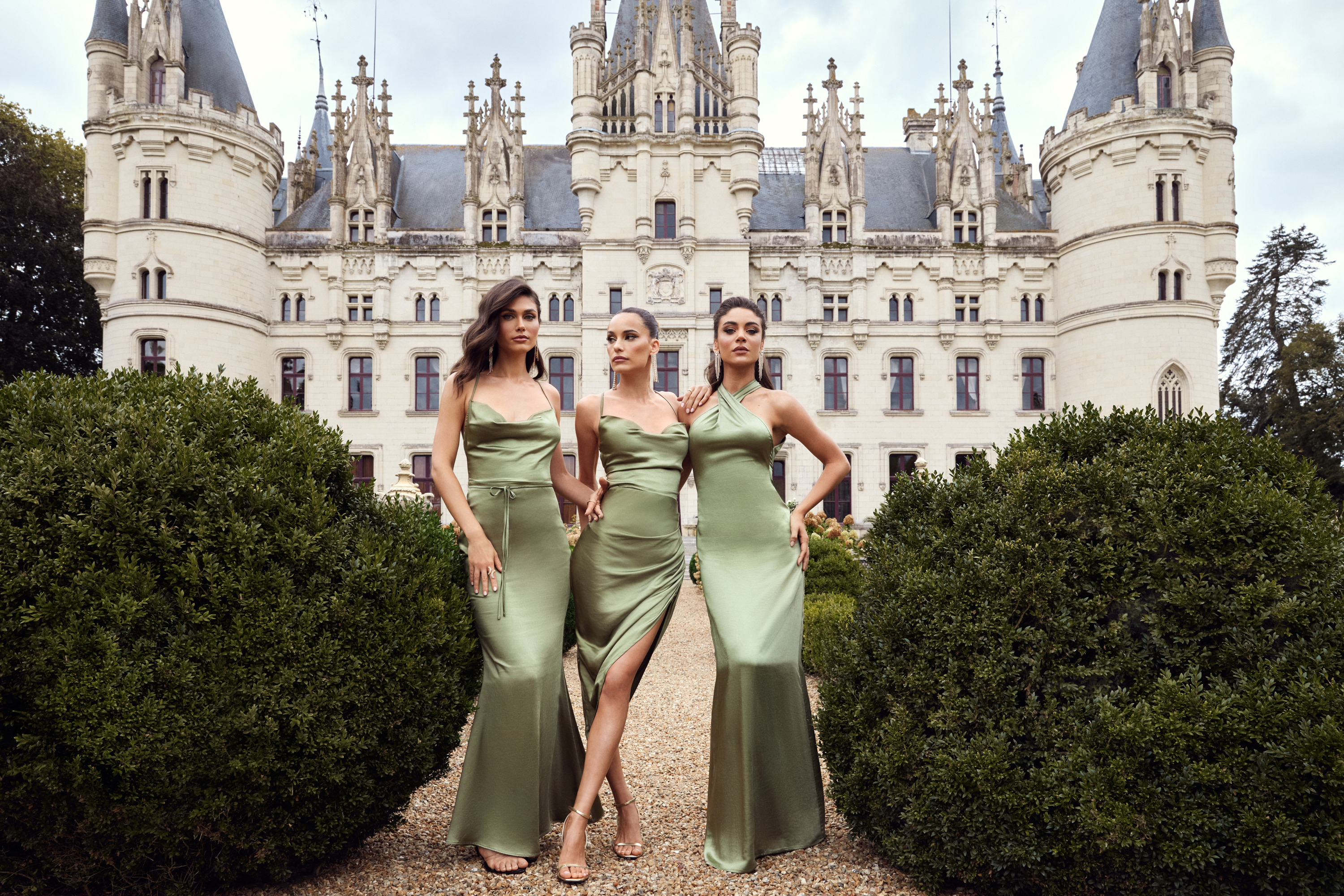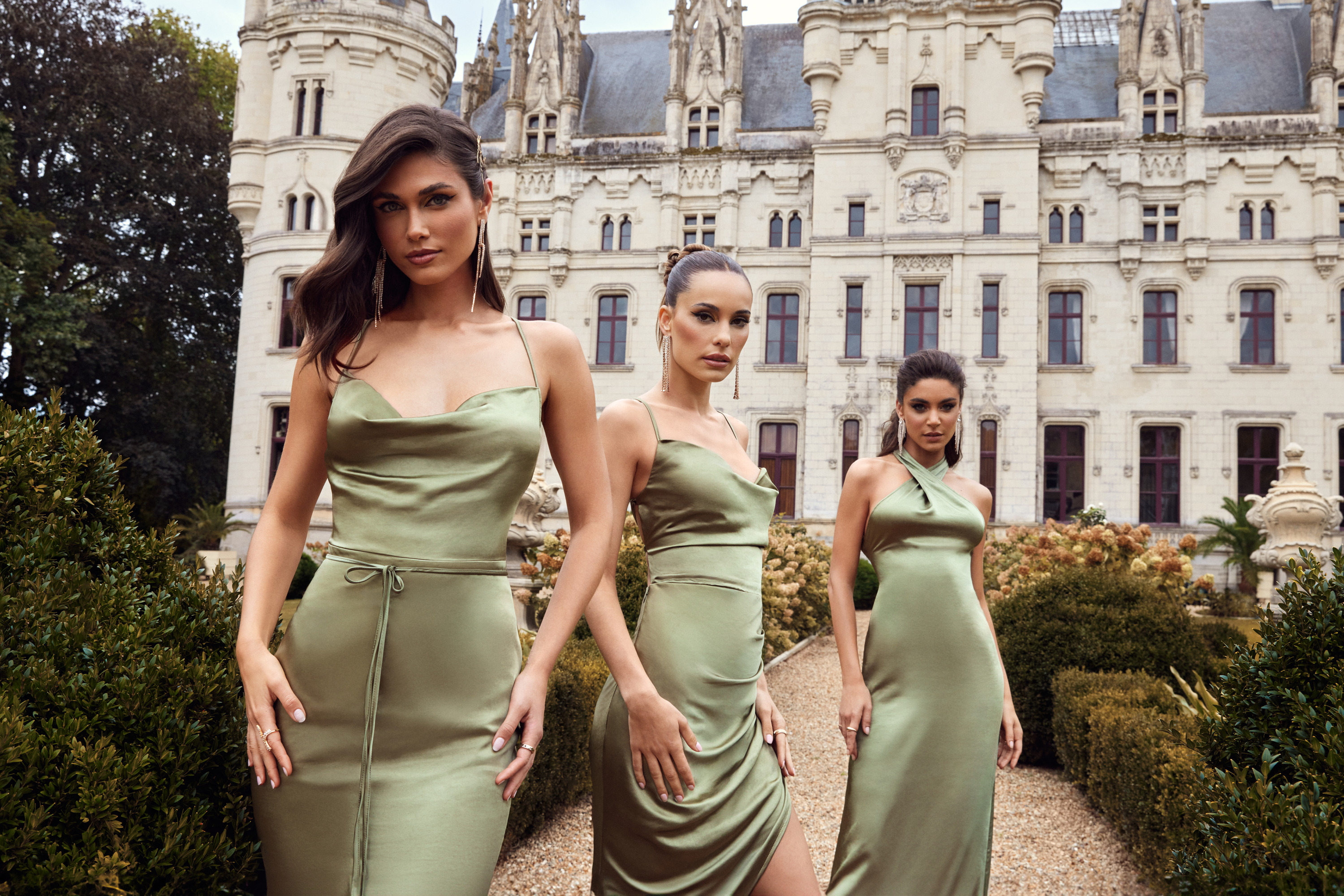 The perfect offset to wedding whites, olive tones signify the changing seasons - cool and calm - and define some of our bestselling bridesmaid dresses. This dialed down green looks best on premium-quality satin so keep this fabric the reoccurring feature of asymmetric midi and halter-neck maxi dresses when shopping with your honorary girls.